Multi Purpose Wheelchair
Compared to traditional standard wheelchairs, multifunctional wheelchairs are larger and have more equipment options. Offer a higher level of comfort for users with prolonged sitting, limited mobility or severe disabilities with options such as raised leg rests, adjustable backrest, seat inclination, headrest and wider armrests.
A multi-purpose wheelchair is a versatile mobility device designed to serve various needs and provide greater flexibility for individuals with mobility challenges. These wheelchairs are equipped with features that go beyond basic mobility, allowing users to engage in different activities and environments.
Some key characteristics of multi-purpose wheelchairs
Adjustable Features: Multi-purpose wheelchairs often come with adjustable components such as seat height, backrest angle, and footrest position. These adjustments enhance user comfort and accommodate different activities.
Foldable and Portable: Many multi-purpose wheelchairs are designed to be foldable, making them easier to transport in vehicles and store when not in use. This portability is especially useful for individuals who are frequently on the move.
Swing-Away Footrests and Armrests: Some models feature swing-away footrests and armrests, which allow users to transfer in and out of the wheelchair more easily and provide better access to work surfaces.
Reclining Backrest: A reclining backrest is a common feature in multi-purpose wheelchairs. This allows users to adjust their seating position, making it more comfortable for extended periods or for napping.
Tilt-in-Space: Tilt-in-space wheelchairs offer the ability to tilt the entire seating system while maintaining the user's orientation. This feature can help redistribute pressure, aid in digestion, and improve comfort.
Multi-purpose wheelchairs are intended to provide users with greater independence, comfort, and the ability to participate in a wider range of activities. The versatility of these wheelchairs allows individuals with mobility limitations to lead more active and engaging lives, tailored to their specific needs and preferences.

Application
Daily Mobility: Multi-purpose wheelchairs are primarily used for daily mobility, allowing individuals with mobility challenges to move around their homes, communities, and workplaces with greater ease and independence.
Home Use: These wheelchairs are suitable for navigating indoor spaces, performing daily tasks, and accessing various areas within the home.
Outdoor Exploration: Multi-purpose wheelchairs with all-terrain capabilities are perfect for outdoor adventures, such as exploring parks, trails, beaches, and other natural environments.
Rehabilitation: In rehabilitation settings, these wheelchairs can aid individuals in their recovery by providing adjustable seating positions and supporting proper posture during therapy sessions.
Hospitals and Clinics: Multi-purpose wheelchairs are used in medical facilities for patients who require versatile seating options during examinations, treatments, and recovery.
Long-Term Care Facilities: Residents of long-term care facilities benefit from the comfort and flexibility offered by these wheelchairs, helping them engage in various activities and maintain social connections.
Transit Accessibility: Wheelchairs compliant with transit standards make public transportation accessible to wheelchair users, enhancing their ability to travel within cities.
Workplaces: Multi-purpose wheelchairs can be useful in workplaces, allowing employees with mobility challenges to navigate office spaces, workshops, and other work environments effectively.
Recreation and Sports: Multi-purpose wheelchairs designed for sports or recreational activities enable users to engage in adaptive sports, fitness routines, and other physical pursuits.
Travel: Portable and foldable multi-purpose wheelchairs are ideal for travel, as they can be easily transported and used at various destinations.
Elderly Care: Elderly individuals with mobility issues benefit from the comfort and adjustability of these wheelchairs in both home and care facility settings.
Emergency Situations: Multi-purpose wheelchairs with features like quick-release mechanisms can aid emergency responders in safely transporting individuals with mobility challenges.
Social Interactions: The versatility of these wheelchairs allows users to actively participate in social gatherings, family events, and community activities.
Respite Care: Caregivers can use multi-purpose wheelchairs to assist individuals in respite care settings, providing a comfortable and supportive seating solution.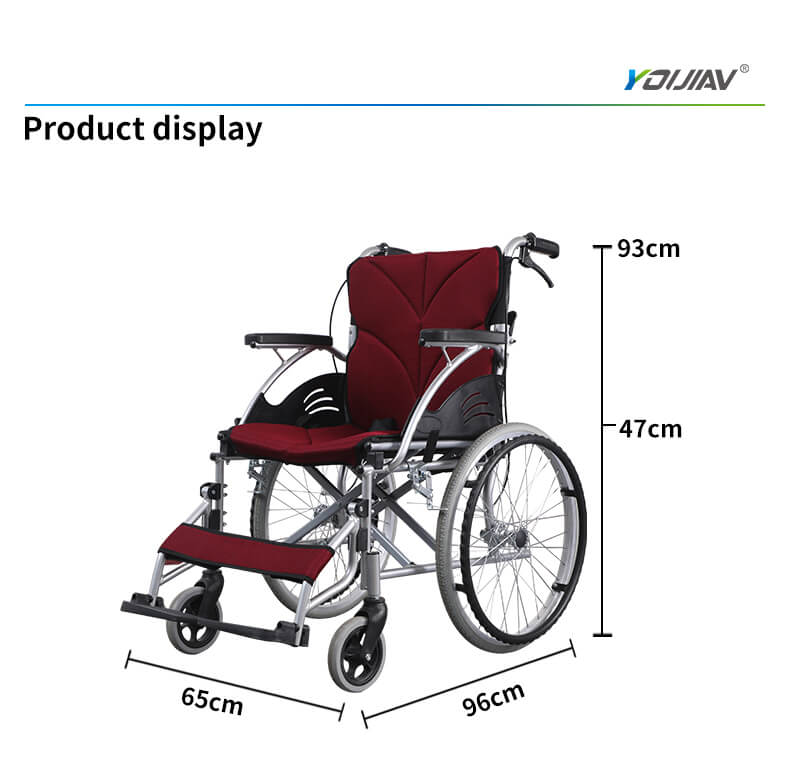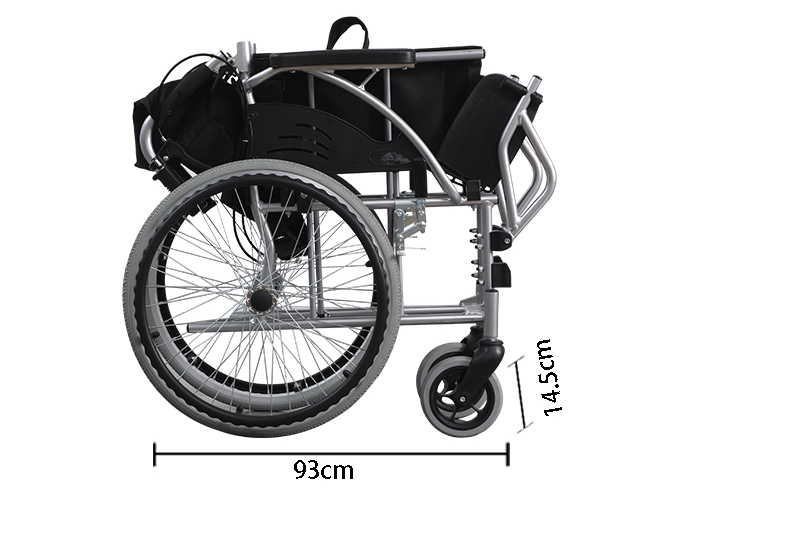 Specification
Product Name:
All-lying High Back-Leaning Manual Wheelchair
Product Features

Hydraulic control angle ranging from 90°-180° provides comfortable flat lying.

The leather seat is easy to clean.

The upgraded ABS integrated wheels are firm, endurable and resist compression powerfully.

The frame of thickened carbon steel material features integrated welding.

Sizes
120cmx100cmx67cm
Folding width
97cmx30xmx53cm
Frame material
Steel pipe frame
Solid front

8 inches

Rear wheel
24 inches
Height of seat
56cm
Arm height
72cm
Width of seat
45cm
Depth of seat
44cm
Height of backrest
67cm
Bearing of load
100kgs