The high back manual wheelchair is a reclining, high strength, lightweight wheelchair in a class of its own. The tilt range is ninety to one hundred and eighty degrees. The compact foldable design makes the ultra-light reclining wheelchair ideal for storage or transport. Lightweight wheelchairs for outdoor use are also very sturdy for your comfort and convenience.
The standard manual wheelchair is an ultra-light folding aluminum reclining wheelchair. This recliner wheelchair features full-length padded armrests, a height-adjustable headrest for added user comfort. It also has a swingable lift footrest and adjustable-length leg supports.

Features of high back manual wheelchair
1. Half/full lying wheelchair integrated, hydraulic control 90-180 comfortable all lying, can be adjusted at will without gear limit;
2. Leather seats are easy to clean, good air permeability, odor free;
3. Upgrade ABS integrated wheel, easy folding easy to carry;
4. 8 inch thickened steel front fork and high density material wheel, 24 inch free inflatable wheel, 360 flexible steering, thickened material;
5. Thickened carbon steel material, frame integrated welding, 2mm wall pipe thickness, 100KG load;
6. Frame bottom double layer cross frame, more stable body, climbing, side sliding design;
7. U type suction hole extraction method, open can make.
High back manual wheelchair specs
Product Name: All-Lying High Back-Leaning Manual Wheelchair
Frame Material: steel pipe frame
Product Size: 1200 * 1000 * 670mm
Width: 970 * 300 * 530mm
Position Surface Height: 560mm
Armrest Height: 720mm
Position Face Width: 450mm
Position Surface Depth: 440mm
Backrest Height: 670mm
Weight Bearing: 100 kg
Solid Front Wheel: 8 inches
Solid Rear Wheel: 24 inches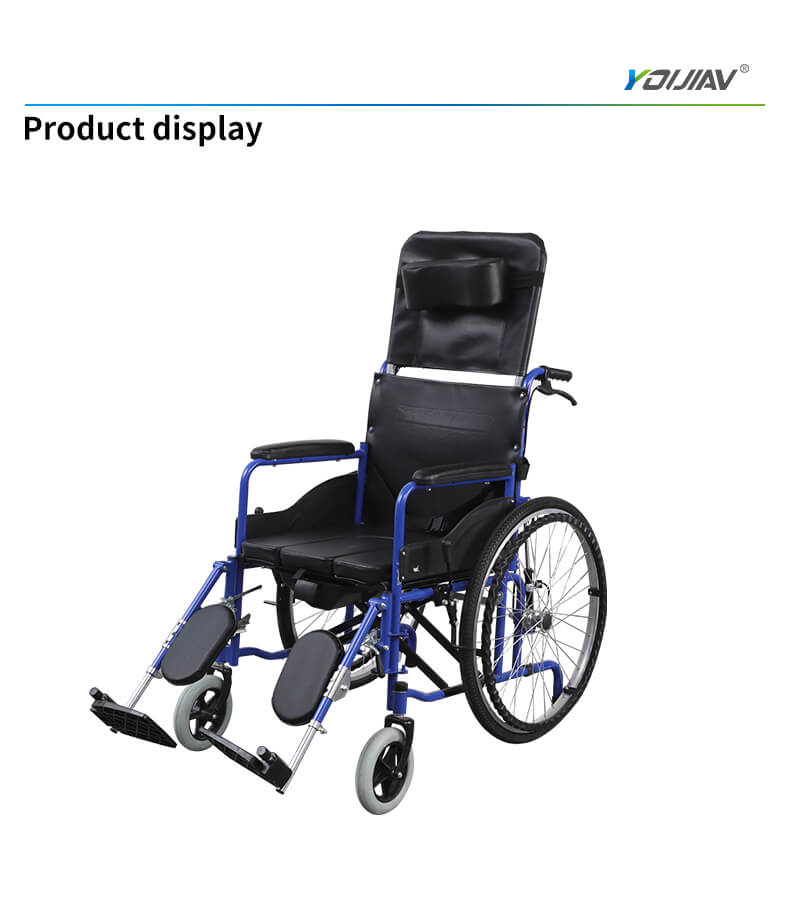 Product Name
All-lying High Back-Leaning Manual Wheelchair
Product Features

Hydraulic control angle ranging from 90°-180° provides comfortable flat lying.

The leather seat is easy to clean.

The upgraded ABS integrated wheels are firm, endurable and resist compression powerfully.

The frame of thickened carbon steel material features integrated welding.

Sizes
120cmx100cmx67cm
Folding width
97cmx30xmx53cm
Frame material
Steel pipe frame
Solid front
8 inches
Rear wheel
24 inches
Height of seat
56cm
Arm height
72cm
Width of seat
45cm
Depth of seat
44cm
Height of backrest
67cm
Bearing of load
100kgs
Why choose the high back manual wheelchair?
Before buying a basic manual wheelchair, you need to consider your activity level. If you travel a lot and need a highly portable option, a lightweight folding wheelchair might be for you. Lightweight wheelchairs provide convenience and comfort for users and caregivers. They are made of aluminium and alloy, and the foldable wheelchair is easy to store and transport. Combine these two styles and you have a great mobility aid.
As a leading high back manual wheelchair supplier, Youjian provides all kinds of high quality manual and power wheelchairs for hosipital use and homecare. Moreover, we can also custom manual wheelchair according to your special requirements, welcome to contact us for detailed information!