Electric patient adult medical beds provide excellent support for long-term care of bedridden or mobility-impaired patients. Full-electric hospital beds for home use is equipped with silent electromagnetic traction motors to raise the head, feet and height of the bed frame at the touch of a button. This type of adjustable electric bed is perfect for usage in home, hospital, rehabilitation center or nursing home. With a motorized platform, it makes it easy for caregivers or family members to assist patients.
Electric patient adult medical beds features:
1. Height adjustable to accommodate the comfortable working height of the caregiver and facilitate a smooth transition in and out of bed.

2. Open frame design, compatible with most standard mattresses.
3. Four smooth rolling casters with foot-operated locking mechanism and swivel function for easy carrying around the facility.
4. Five practical functions to meet daily needs: back, leg, forward, backward, rise (lower).
5. Electric lifting function, convenient for getting up and down the bed and specific functions.
6. The height can be freely controlled between 45 cm and 80 cm above the ground.

7. Choose a silent electromagnetic traction motor, equipped with an emergency stop button, backlight remote control, safety is more critical.
8. All sides of the guardrail, hydraulic power control, slow down folding for easy storage.
9. Central control brake system, one component controls four wheels, safety is improved again.
As an electric patient adult medical beds supplier, Youjian provides high performance electric hospital beds and wheelchairs to make patients or elders and nursing people invacare. With customized service and low cost price, welcome to choose your interested products and contact us for any questions!

Why choose a electric patient adult medical bed?
1. Mobility: If your mobility is severely limited, then an all-electric hospital bed may be the right choice for you. These beds can be raised and lowered at the touch of a button, making them ideal for people with limited mobility.

2. Nursing assistance: If you do not have a nurse or someone who can lift and lower your bed for you, an electric hospital bed will be essential for you.

3. Comfortable: If you prefer a bed that is convenient to use and easy to use, then the electric bed is sure to be a great choice for you. These types of beds eliminate the physical labor associated with other hospital beds, such as semi-electric or manual beds.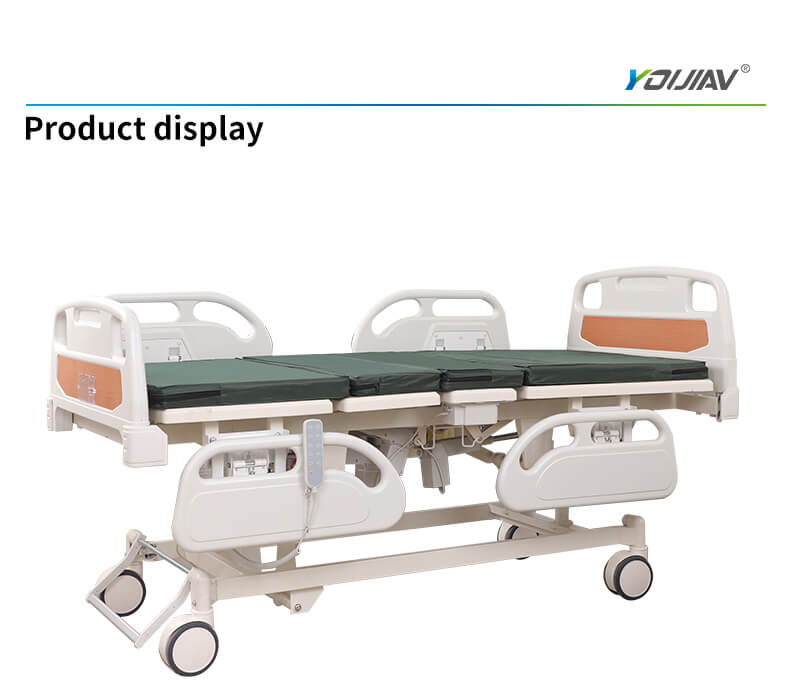 Overall size
2200mmx1100mmx510mm
Product features

The electric lifting function is convenient for getting on and off the bed.

Silent electromagnetic traction motor is selected to be more efficient.

Integrated forming of fine steel stamping plate surface.

High density brown+sponge inner core does not collapse after long sleep.

Product size
1935*900*490/750(±50)mm
Bed material
Thickened steel plate
Product function

Back rest lifting (0-85°)

Bent leg rest lifting (0-35°)

Overall liftingTilt left and right